Article
How to Use CrafterCMS: A Simple Guide for Marketers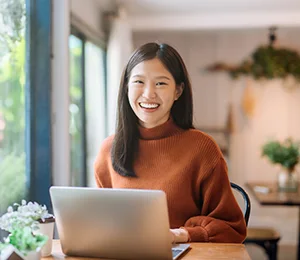 "How can CrafterCMS help me achieve my marketing goals?" is a question I receive often. And if you're like any digital marketer, you want a web content management system that is easy to use and can easily engage site visitors. A platform that you can update without involving the IT department, but advanced enough to allow you to create and modify digital content on your own.
CrafterCMS provides marketers with a platform to create and manage engaging websites, mobile applications, and multi-channel digital experiences, all through a modern suite of tools available both on-premise and in the cloud.
So, how do you make quick edits? And what does this mean for your marketing strategy? Don't worry. We've got you covered.
How to Use CrafterCMS
Ready to get started? We'll walk you through a few basic steps for leveraging CrafterCMS and fill you in on some neat features along the way.
1) Log into CrafterCMS from any connected device.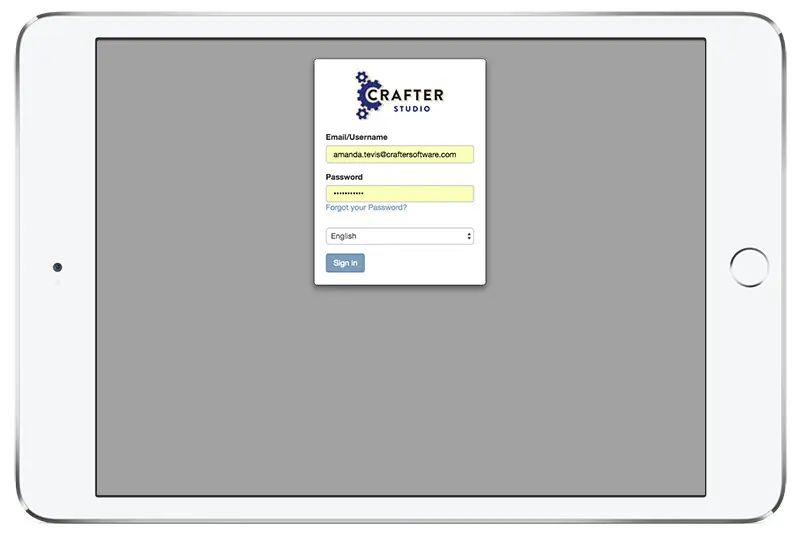 2) Click on the Preview link and we will update an event on our website together.
Below you will notice CrafterCMS lists all your websites in one location, and if you look closely at each site you will see the following links: Preview >> Dashboard >> Live site.
The Preview link allows you to view the live website and get access to your editing tools. Crafter's Dashboard will reveal any activity or changes made and who made them, along with a complete set of modern editing tools. You see below we actually manage three different websites here at CrafterCMS.
3) Select Edit at the top of your screen
Here we have access to your editing tools located on the left and top of the page with a live view of our website. We will update our main website, https://craftercms.com.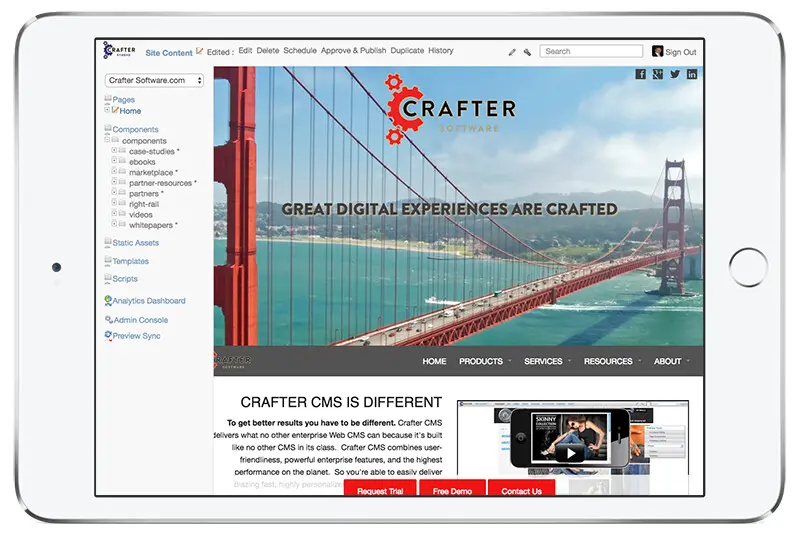 Next we show how to update the Events page on our site that has a listing of events, along with the content and metadata associated with each event.
4) Click the + sign next to Events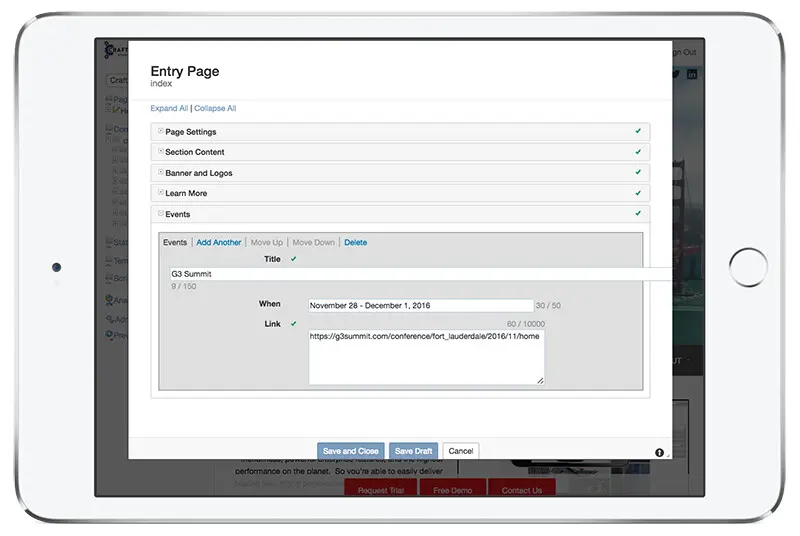 A dropdown template will appear, where you can easily insert the title, date and link for your event. Select Save and Close at the bottom when you are finished.
Want to publish the event? Simply navigate back to the top of the page and click on Approve & Publish; Crafter allows you to either publish now or schedule it for a future date and time.
Pro Tip: You can add personalization at any time to your digital experiences by simply pressing on the wrench at the top of the page and selecting a persona to whom you can personalize the content and experience.
Let's now add a press release to the website.
5) First, we navigate to the press releases by locating the About section and clicking on News in the website view. Once there, we select Edit at the top of the page.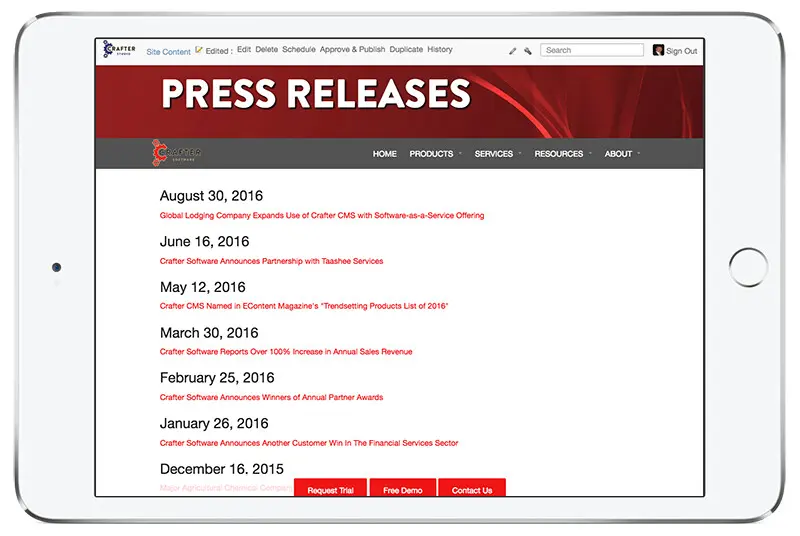 6) Let's tap the HTML to edit
Here we can edit two different ways, either by a WYSIWYG editor (as shown below) or through an HTML editor.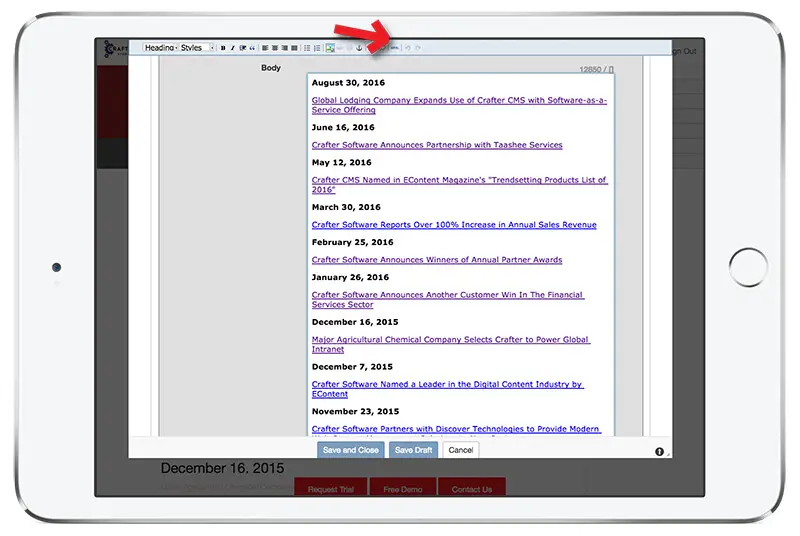 7) Edit your HTML in the source editor
We have added new HTML in green to show a new press release we want to publish. We edit the HTML code and once we are happy with it, we select Update and then click on Save and Close at the bottom.

Result: A new press release for September 2016 and the preview view gives us a view of how it will look and function on our website.
Happy with the press release edits? Now we can navigate to the top of the page and select Approve and Publish and select the time we would like the news to go live to our targeted audiences.
Congratulations you have learned how easy it is to update content, personalize experiences for particular site visitors and better engage your customers using CrafterCMS.
Are you experimenting with different ways to engage your targeted audiences? Want to learn how CrafterCMS platform can help your marketing efforts? Share your thoughts in the comments below or email us at info@craftercms.com.
Related Posts
Related Resources