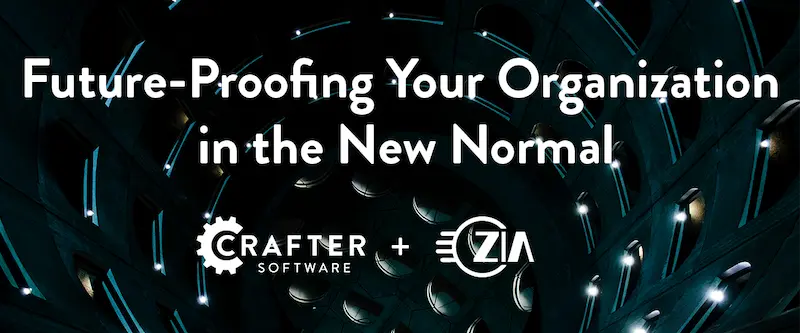 Future-Proofing Your Organization in the New Normal
30 Sep, 2020
01:00 - 02:00 PM (ET)
17:00 - 18:00 (GMT)
REMOTE WEBINAR
In 2020, being agile and quick-to-market is how your organization will win against the competition in an ever-changing and unpredictable environment. With global wide social distancing guidelines in place indefinitely, your organization needs an effective way to virtually communicate with your audience. This means now, more than ever, your web presence is imperative to reaching that audience. You need the ability to quickly and easily author, manage, and publish content by utilizing modern platforms and systems. This will empower your organization to continue to innovate and stay ahead of the curve...even when the future is uncertain.
Join Zia Consulting and CrafterCMS for a discussion around planning for the future while working in the now. Find out how you can empower your people to innovate faster, deploy sooner, and create modern, content-based products.
If you are currently having these discussions in your organization, you'll gain value from attending:
"We need to be able to collaborate and create in a decentralized manner now that we don't meet in the same place anymore."
"We still have disruptive content freezes during development and deployment activities."
"If we could just host our solution in the cloud, we'd be so much more flexible."
"We need to create a variety of customer experiences to stay relevant as the path forward keeps evolving."
"Our video content is becoming increasingly irrelevant, but we're not prepared to publish anything new in a quick, effective way."
Be sure to bring your questions and comments for this interactive discussion.