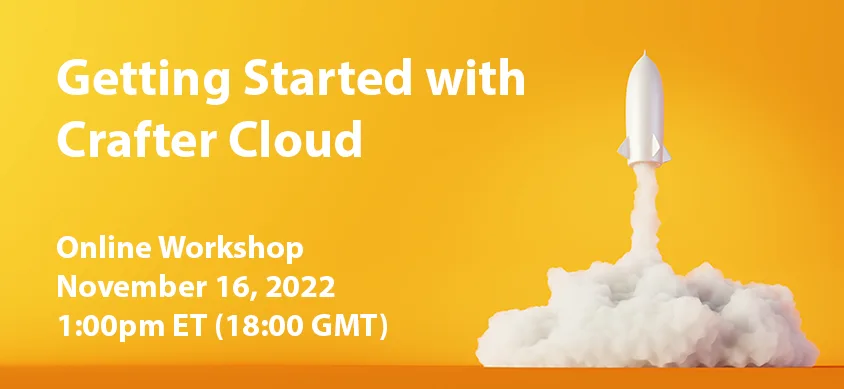 Getting Started with Crafter Cloud
16 Nov, 2022
01:00 - 02:00 PM (ET)
18:00 - 19:00 (GMT)
Online Workshop
Enterprises are moving to cloud solutions for three primary reasons: productivity, flexibility, and cost savings. Headless CMS solutions in the cloud can offer these benefits for enterprises looking to build modern, content-rich digital experiences such as global websites, employee intranets, customer portals, e-commerce sites, OTT video experiences, interactive voice assistants, and more.
Join this online workshop to learn how to get started with Crafter Cloud, the leading headless CMS SaaS for enterprises. You will learn how to start your free trial and within minutes, start building content-driven sites and apps in the cloud.
We will cover how to:
Launch your free trial in the cloud within minutes.
Quickly create your first enterprise website using pre-built blueprints and plugins.
Browse Crafter's Marketplace to easily create a variety of new digital experiences including e-commerce stores, OTT video portals, Alexa experiences, and more.
Use Crafter Studio, the best-in-class content authoring experience for headless CMSs, to create/edit/publish content using WYSIWYG in-context editing, live previews, drag and drop experience building, and more.
Develop on and extend Crafter's rich APIs to build innovative digital experience sites and apps, including SPAs, server-side rendered sites, HTML templated sites, mobile apps and more.
Leverage Crafter's unique Git-based content repository and DevContentOps support to collaborate better and deliver value faster than ever before.