Article
What is a Video CMS? How Leading Enterprises Are Delivering Video Experiences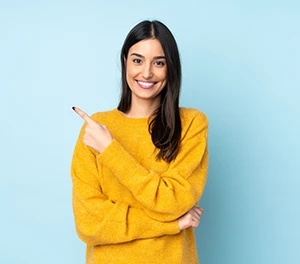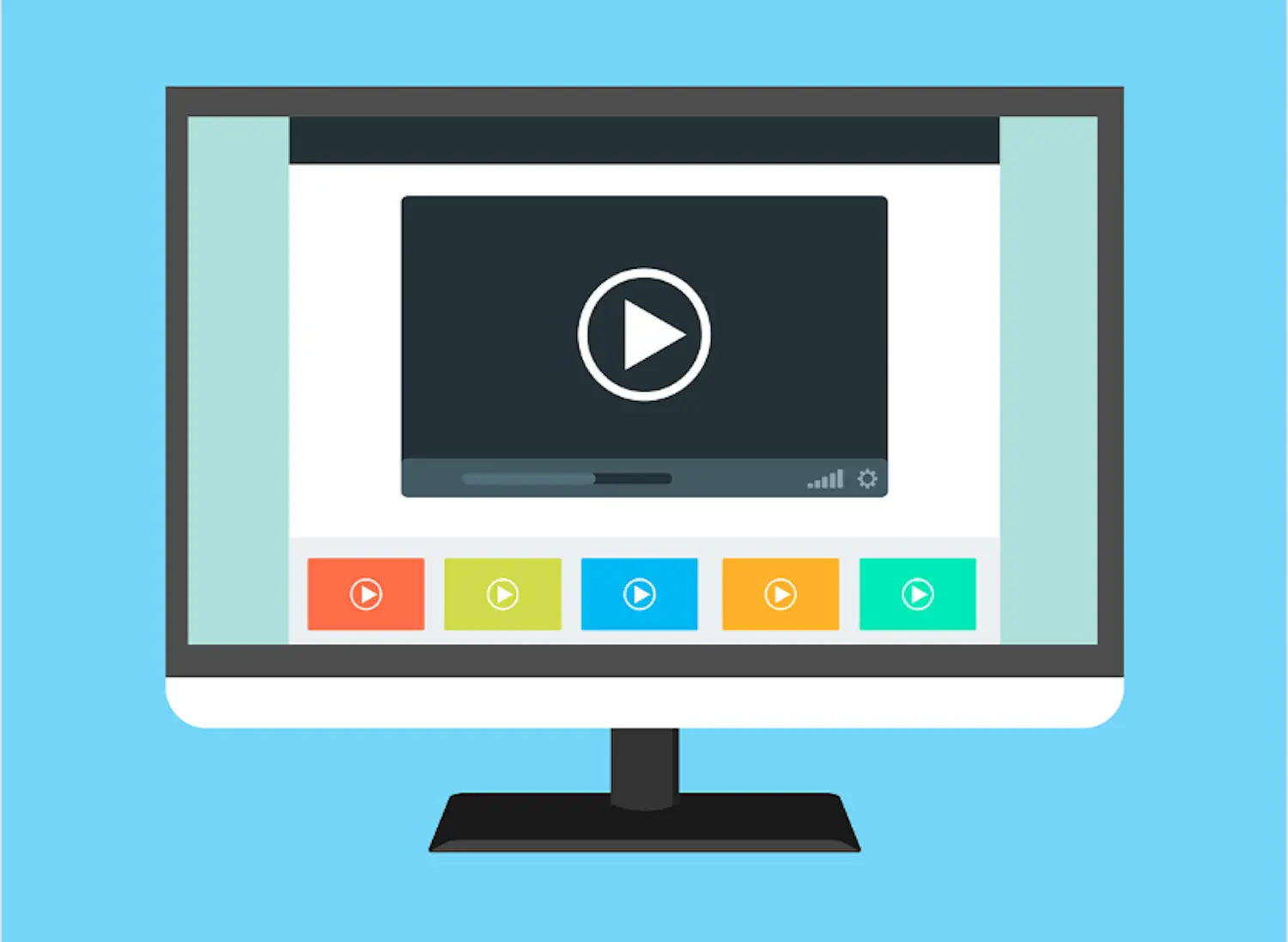 When many content authors think of a content management system, they often think of editing text and arranging images on web pages.
But what happens when video is the content format in question? And also when you want to deliver video experiences to not just your website, but also to many other digital channels?
After all, video content will soon represent over 80% of all internet traffic, and video delivery channels include mobile devices, gaming platforms, OTT TV devices (Roku, AppleTV, etc.), among many more.
Product demonstrations, instructional courses, conference keynotes and presentations, live events -- are all avenues by which companies can engage customers and educate employees and partners through video. However, many content creators may lack the proper tools to manage, publish, and monetize video content. For these tasks, a video CMS can help.
What is a Video CMS?
Just as a standard CMS works to manage, deliver, and allow for online collaboration for text-based content, a video CMS covers these tasks for content authors who want to deliver video content to their digital apps and channels. Essentially, a video CMS allows users to manage and facilitate the delivery of live and video-on-demand across any digital touchpoint.
While some traditional web CMS platforms allow for video integration, the use of such platforms for managing video content can be problematic. For one thing, some CMS platforms have a limit on the file size that they can integrate. This issue can cause problems when integrating videos, especially long-form or high-definition videos, into the content on a standard CMS. On the other hand, content authors can often find it much easier to integrate text formatting into a video CMS platform, rather than the other way around.
Why Do Businesses Need a Video CMS?
The demand for video content, both from inside and outside of organizations, continues to grow. Potential customers may want to see product demonstrations, instructional content, or sales presentations, while team members inside the business can benefit from video conferencing, staff training sessions, and company-wide events coverage. Leading enterprises need to think like video publishers, with their own OTT live video channels video-on-demand platforms to engage customers, partners, and employees. With so much video content out there accompanied by the high demand for that content, a video CMS is one of the most vital tools that content creators and managers can have in their toolset.

1. User Engagement
As the old saying goes, "a picture is worth a thousand words". At that "exchange rate", even a short video can be worth reams of text, especially to users who place a premium on their time. A 2019 survey by Wyzowl found that, when respondents were faced with the choice of reading text or watching a video to learn about a product or service, more than two-thirds said that they would rather watch the video. An effective video CMS platform can help content creators embed videos that can capture the attention of users who would gloss over or ignore even the most well-crafted text content.
2. Social Shares
Another advantage of video content lies in how visitors can share it on their social media outlets. Facebook, YouTube, Instagram, and Twitter all allow for video sharing, and brands that can take advantage of these capabilities can use managed video content as a force multiplier for their brand awareness efforts. The same Wyzowl survey showed that almost half of all respondents said that they would share branded video content with their social networks, more than any other type of content. A powerful video CMS can allow content authors to make their video content more accessible and appealing to social media outlets.
3. Bandwidth Management
While video files provide content authors with nearly unlimited capabilities to deliver their messages, one of the major drawbacks occurs when video files become so plentiful and popular that they stretch the organization's bandwidth resources. A video CMS has numerous capabilities to manage bandwidth requirements, such as adjusting video resolution, frame rate, and bit rate to reduce overall bandwidth consumption and manage fluctuations in traffic.
4. Increased Mobile Users
According to the same Wyzowl survey, about one in three respondents said that they use their mobile devices as their primary means to watch online videos. While this percentage may seem small, it represents double the percentage of those who responded that they "mainly" watch videos on desktop platforms. For companies who want to make their video content mobile-friendly, a video CMS provides the best players for both Google's Android and Apple's iOS, as well as transcoding solutions that automatically convert videos into file formats best supported by the device including HLS, DASH, and HEVC/H.265.
5. Lower IT Costs
Just as a traditional CMS can serve as an "off-the-shelf" solution for managing traditional content, a video CMS can serve the same purpose for video content. The availability of a tailored solution for managing, deploying, testing, and delivering video content can save companies hundreds of man-hours that could have been spent developing and maintaining in-house solutions. Many video CMS solutions also include tools that allow brand managers to keep sensitive content secure and to gather detailed usage and other useful analytics, rather than developing their own capabilities or posting such videos to sites like Dropbox or YouTube.
6. User Experience
Organizations want complete control over their branding and the overall experience of finding and consuming video content. Organizations with large volumes of video content need a solution that allows them to present video in context with messaging that matches their brand voice and that takes into account personalization and security. By leveraging a video CMS the user experience can be secured, branded and personalized to an individual user giving them a slice of video content that makes sense for them.
7. Integrations
Video is one of the most powerful mediums for communicating. However, relative to other forms of content, video is more costly to produce. Organizations that invest in video-based production want to be able to get the most out of their video content. With more video processing and storage moving to the cloud, easy integration with cloud-based services are important. In addition, a video CMS should leverage the information inherent in the video content to maximize its value by integrating with other services like transcription to support captions and fulltext search, translation of captions to extend reach, and auto-tagging to help make the video more findable by enriching the metadata the system maintains. Integrations with AI/ML services can dramatically improve the user experience as well; for example, enabling automatic recognition of people, events, and objects in video opens up a whole new range of innovative video applications for the enterprise and broadcast industry alike.
What Type of Video CMS Should a Business Use?
Video CMS platforms come in many varieties from proprietary to open-source, on-premise to SaaS, and a dedicated video CMS to more modern CMS platforms that support both traditional web content along with video content management.
In fact, with a modern CMS platform, the need for a dedicated video CMS can be eliminated. With more video processing and storage moving to the cloud, for example with services such as AWS Elemental Media Services, a cloud-native CMS that easily integrates with cloud-based video services is a game changer.
These types of highly scalable, cost-effective cloud services open the door to enterprises who want to fully embrace video content in all of their communications activities. For their video CMS needs, innovative enterprises are now looking for a modern, video-friendly CMS that natively supports video content management and also provides:

Headless API-first support, to enable the development and delivery of any type of video experience on any digital channel;
Cloud-native, to enable elastically scalable video experiences that perform very well and are also highly cost-effective supporting serverless computing architectures;
Tight integration with cloud video processing and storage services, for example, those from AWS Elemental Media Services, to enable a full end-to-end video content production, management, and delivery solution;
Open source, enabling developers with complete access to the underlying code, which typically leverages common open-source development frameworks and tools, making it straightforward for developers to modify and extend the software.
Crafter Video: A Cloud-Native Video CMS Built on a Modern CMS Platform
Crafter Video is a video CMS solution built on the open source CrafterCMS platform, and provides built-in integration with AWS Elemental Media Services, providing an end-to-end video solution for enterprises and emerging OTT broadcasters and media publishers.
Crafter Video facilitates the creation and delivery of innovative video experience because it leverages the robust capabilities of the headless CrafterCMS. Furthermore, the solution automatically manages bandwidth and adaptive-bit-rates for specific devices out of the box. The cloud-native design of Crafter Video means the software integrates seamlessly with cloud services like AWS, and its serverless architecture makes Crafter scalable in real-time, 100% on demand. Crafter Video is open-source, and therefore highly customizable, so it could be an ideal solution for many organizations.
How Marriott Uses Crafter Video
Marriott deployed Crafter Video for both public and private video streaming access of live events. As Marriott uses CrafterCMS for its global intranet, the implementation of Crafter Video was trivial. The solution was hosted on Amazon AWS, which offers cloud scalability along with performance and security features. They also utilized AWS Elemental MediaLive, which enables "Live-to-VOD" encoding of the production live stream into Adaptive Bitrate (ABR) HLS renditions to obtain seamless responsive support for different kinds of network bandwidth across the globe.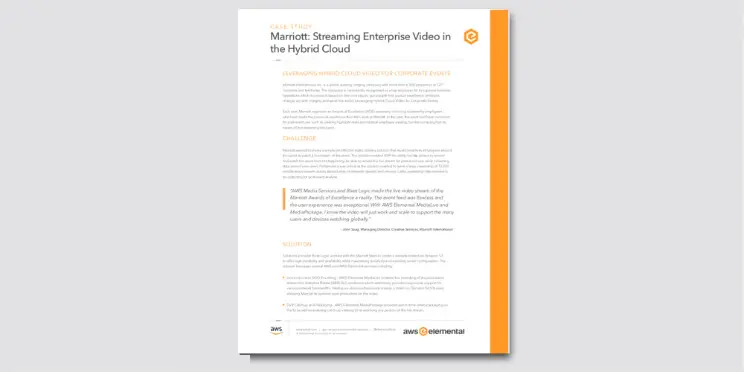 AWS Elemental MediaLive also lets Marriott leverage the dynamic scalability benefits that it provides. There is no need to purchase and maintain transcoding hardware or rent expensive equipment. The entire video processing infrastructure is on-demand which greatly reduces the costs associated with supporting high volume live events. Combined with Crafter Video on the front-end, the solution seamlessly auto-scales to maintain performance during heavy usage.
Learn More
For enterprises seeking a modern approach to their video CMS needs, check out these Crafter resources:
Related Posts
Related Resources