Article
Why You Need More Than Digital Signage Software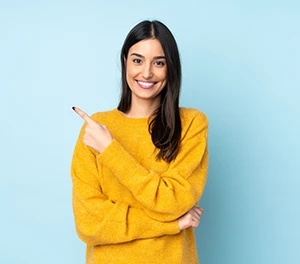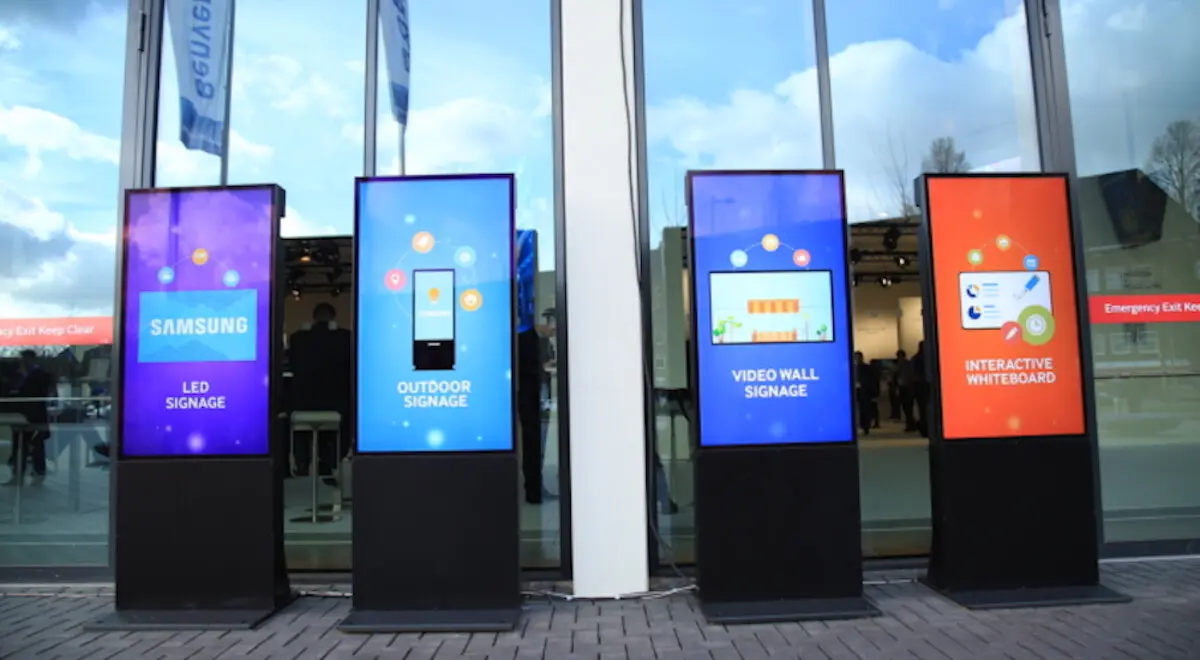 From convention halls with thousands of attendees to brick-and-mortar stores with hundreds of customers, the need for branded digital signage is one of the most pressing items on companies in the events, hospitality, retail, and education sectors.
In days gone by, companies would trot out massive printed displays that took up lots of space, were cumbersome to assemble and disassemble, and were highly expensive to print, maintain, and renew. Plus, the static messaging was defunct of any video content, localization, or personalization.
Today, digital signage software helps brands to deliver more content to larger screens at a lower cost. Their advertisements and logos are seen across screens at airports, train stations, hotel lobbies, malls, and high streets.
In this article we'll look at the pros and cons of digital signage software—and why it's not enough for a forward-thinking brand.
What is Digital Signage Software? And Why Is It Important?
Digital signage software is, to put it simply, a software platform that allows users to display and manage content on electronic screens. In most instances, the digital signage software runs on a computer that connects to monitors or display screens. For static displays that run on a loop, the signage software does not require an internet connection. For dynamic displays that require constant updates (e.g. news, weather, sports, traffic), the software will need an internet connection to maintain those updates.
Digital signage has transformed from an entertaining novelty to a vital component of how businesses deliver their branded messages. The widespread presence of display screens and internet connections have enabled firms of all sizes to create digital signage areas that can reach a vast audience. These platforms can also be applied toward targeting messages toward specific market sectors, either by region, by income, by age, or by other demographic criteria.
Nearly every type of business has found uses for digital signage software applications. Some of these uses include:
Restaurants: Many chain restaurants use digital displays to show their menus, wait times, and special offers.
Fitness centers: Thousands of gyms and fitness centers use digital displays to show information on special events, demonstrate proper use of fitness equipment, and "gamify" workout routines to make them more enjoyable.
Retail stores: Digital signage in retail stores help customers find items, inform them about sale prices, and enhance the customer's experience.
Hotels: Digital signage in hotel lobbies help guests find relevant hotel and local information to enhance the customer experience.
To give you a real-life example, the worldwide hotel giant Marriott launched its "GoBoard" system in its Courtyard by Marriott locations. Each GoBoard has a primary display that shows local news stories, sports scores, weather forecasts and more. Guests can interact with the GoBoard to get information on air travel, local tourist destinations, and general information about the hotel and the on-site dining facilities.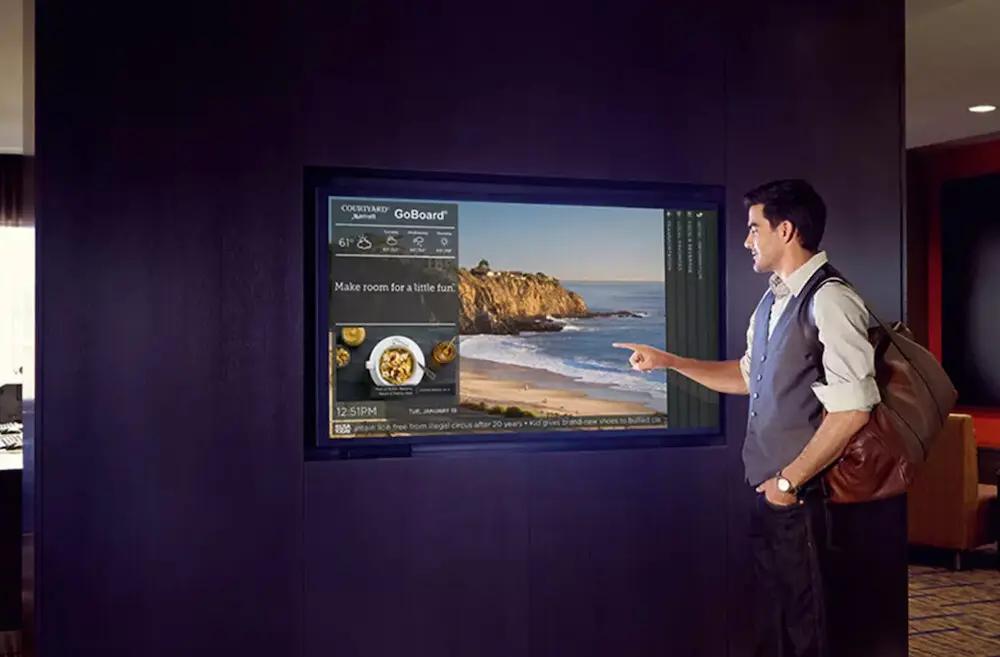 Source: Four Winds Interactive
Advantages of Digital Signage Software
Digital signage software platforms offer firms some unique advantages over static printed displays. Some of those advantages include:
Dynamic content: Digital signage can be updated by time of day, day of the week, or month of the year, depending on the needs of the marketing campaign.
Faster testing: Marketers can test which displays are the most effective with digital signage much faster and cheaper than with traditional print displays.
Increased sales: A 2017 study found that "80% of brands that use digital signage displays experience an increase in sales of up to 33%."
Reduced costs: Over time, digital signage software platforms can cost less than print jobs for similar projects. Also, while, print signage can take several weeks, digital signage projects can be done in less than a day.
The Drawbacks of Digital Signage Software
Although digital signage software does offer several advantages over print projects, these platforms are not without their drawbacks. These drawbacks can include:
High setup costs: While the costs of digital signage per project can be significantly lower than those for comparable print projects, the setup costs for both software and hardware can be an issue that can impact return on investment.
Not always user-friendly: Most digital signage software systems lack user-friendly features that marketers and product managers need to create and modify content.
Added costs: Some free or inexpensive digital signage software platforms lack more advanced functionality, which requires the user to pay as they go to add necessary functions.
Siloed Content: A digital signage software is a completely separate system from a CMS. That means marketers would have multiple systems to look after and they have to duplicate content.
Why Digital Signage Software is Not Enough
Here's the biggest problem:
Digital signage software helps you manage your digital signage content—and that's it.
Because digital signage content is only meant for the digital signage software, the content created for it is siloed and probably duplicated. Marketers and brand managers are also forced to learn how to use yet another disjointed content creation tool, and also have to watch out for inconsistent messaging across channels. Plus, marketers will have a tough time re-using that content on other platforms, leading to yet more duplication in the future.
So, for an ambitious brand with omnichannel customer experience ambitions, what's the real solution?
The Answer: a headless CMS
The capabilities of a headless CMS platform can also make it useful as a digital signage management system—and then some.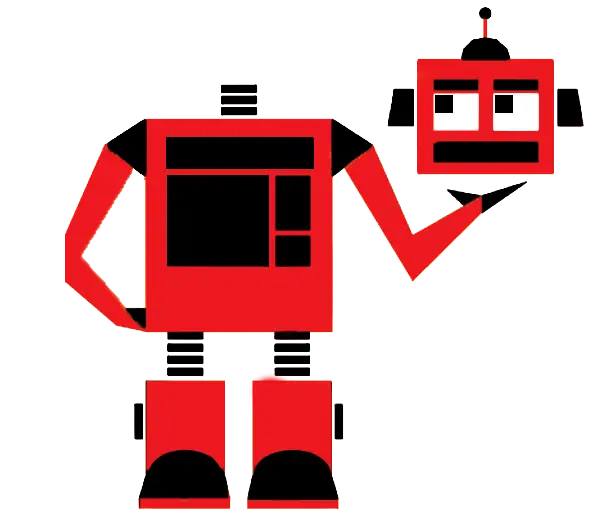 While a traditional CMS couples both the "front end" presentation layer and the "back end" content and data, a headless CMS removes the front end and relies on API calls from the back end to display content.
This approach allows the CMS to send content to any type of web-enabled device, including smartphone apps, digital kiosks, Internet of Things (IoT) devices, and, of course, digital signage—all while maintaining a consistent message and eliminating duplication of effort.
At Crafter, we've taken the concept of headless content management, and we have expanded it. Our decoupled CMS architecture completely separates the content authoring system (Crafter Studio) from the headless content delivery system (Crafter Engine). This separation allows marketers to enjoy traditional content authoring tools, and also allows for that centralized content to be distributed to any device or channel.
Many traditional, and even headless, CMS vendors claim to be decoupled, but in reality, their authoring tier and deliver tiers are connected via database sync. With CrafterCMS, you're truly decoupled, and truly headless.
With all content stored in Crafter Studio, marketers and brand managers can be sure that their content will remain consistent across all display devices—and across any other touchpoint that they wish to include in their digital experience.
After all, as Crafter Studio and Crafter Engine can together form the central hub of your digital experience, your content can be centrally created and distributed to pretty much anywhere.
Don't limit Your Digital Experience to Digital Signage
Digital signage is a growing frontier for brands trying to get their messages out into the physical world—but why stop there?
With an enterprise-grade headless CMS like Crafter, you can support digital signage, modern websites, mobile apps, Single Page Applications, smart speakers, immersive experiences, and so much more.
For more information on how CrafterCMS can create a digital signage solution for you, check out our white paper, Building and Optimizing Multi-Channel Digital Experiences.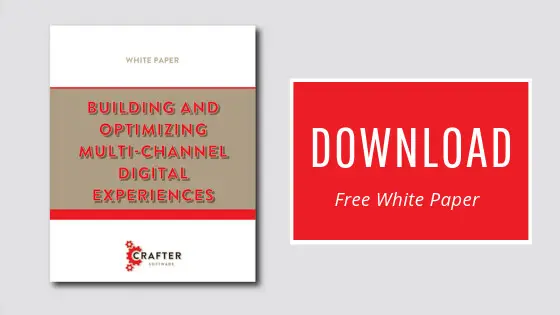 Related Posts
Related Resources