Article
Omnichannel Customer Experiences: Your Brand's Key Differentiator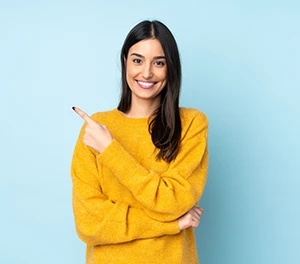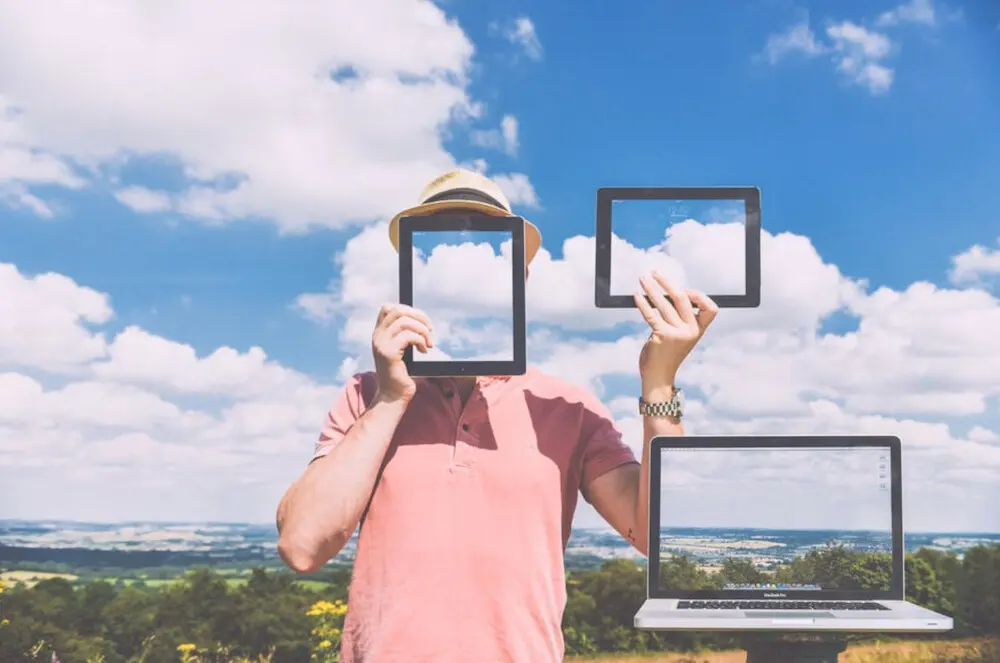 The current wave of disruptive technologies has opened up new ways for your customers to engage with your brand. According to Marketing Land, 62 percent of consumers engage with their favorite brand on 10 or more channels.
In response, a large number of organizations are investing in omnichannel customer experience (CX) strategies, and they are already seeing positive results. Research firm Aberdeen revealed that customer satisfaction is 23X higher for companies with omnichannel strategies.
In this post, we explain what omnichannel CX is and what it looks like in practice.
What is Omnichannel Customer Experience (and How is it Different to Multi-channel)?
With customers already switching between multiple devices on a daily basis, it is imperative that brands are able to deliver a consistent and seamless experience across these devices and channels.
And that's the main aim of omnichannel customer experience, it "seamlessly connects" all these different channels, devices, and touchpoints together to allow the customer to pick up where they've left off. It saves them from having to repeat the process all over again, providing the level of convenience that they crave.
True omnichannel customer experience is able to integrate both online and offline channels together. However, there is often a degree of confusion that surrounds omnichannel. Many assume omnichannel CX is the same as multi-channel CX since they both use multiple channels. Some even use the two terms interchangeably.
But omnichannel and multichannel different. Indeed, multi-channel does involve utilizing multiple channels, but these channels operate separately, and there's no connection between these channels. In fact, the whole purpose of multi-channel is to increase your reach.
As for omnichannel, this also uses multiple channels, but as we just mentioned, these channels are connected so that it can provide a continuous experience.
There are many advantages to opting for omnichannel. Besides the increase in revenue and customer loyalty, omnichannel opens up more opportunity to deliver personalized experiences - which consumers are currently demanding from their brand interactions.
According to a study by Salesforce, which surveyed more than 7,000 consumers, 53 percent of consumers are willing to share their personal data in exchange for a personalized shopping experience. Considering that we now have strict regulations such as the GDPR and the CCPA which are keeping a lid tight on consumer privacy, that statistic just shows that as long as you can attain consumer consent, you can track your consumer's interaction with your brand as they switch between different devices, and then you can use that information to deliver a personalized experience which follows them on their customer journey.
What Does an Omnichannel Customer Experience Look Like in Practice?
To follow up on the last point, it is important to keep in mind that omnichannel customer experience is about creating a unique customer journey for your consumers as they interact with your brand via different channels from the initial product research right through to after sales.
The best way to explain how this looks like in practice is through a hypothetical example:
"Adam wants to purchase a smart speaker device for his apartment. During his commute to work on the train, Adam browses on his smartphone to research different smart speaker devices that are available on the market. As he does, he finds something that sparks interest, it was a Google Home device that was on offer by a retailer. Adam briefly looks at the retailer's site but doesn't have time to look into it properly since he has arrived at his stop.
During his lunch break, Adam is browsing through social media on his workstation, and he came across a retargeting ad by the same retailer that had the smart speaker he was interested in. Adam clicked on the ad to continue looking into the offer and product, and in doing so, he decided to purchase the item. But Adam didn't want the item to be delivered to his apartment, he opted to collect his purchase at this local store the next day. On confirming his collection, Adam received a notification on his Google Calendar that reminded him of the item collection as well as an SMS message with the product reference number.
The next day, Adam went to his local store, showed his reference number to the staff member on the kiosk desk, the staff member greeted him by his first name, and within minutes, Adam got the smart speaker that he wanted."
Three Examples of Brands That Are Delivering Amazing Omnichannel Experiences
No matter what industry you're in, making an effort to deliver omnichannel CX is a sure-fire way to get your brand to stand out from your competitors. Here, we take a look at three brands that are leading the way in delivering omnichannel experiences.
1. Disney
If you want to learn from a brand that takes omnichannel CX to the smallest detail, then look no further than entertainment giant Disney. The brand's trip planning tool is a perfect example.
When consumers book a trip, they can use the "My Disney Experience" tool to personalize every aspect of their trip, including securing Fast Pass tickets and locating the main attractions on their mobile device. Visitors are also issued with a Magic Band device, an electronic wristband device that unlocks the hotel room, stores photos, make purchases and allows entrance into their amusement parks.
Disney are simply omnichannel champions.
2. Virgin Atlantic
Airline brand Virgin Atlantic leads the way in omnichannel customer service. The firm utilizes various channels to engage with the customer to deliver a personalized customer service experience. This placed Virgin Atlantic as an approachable brand with the human touch.
One customer, who shared his experiences with Virgin Atlantic on social media, explained that a customer service representative reached out to him and encouraged him to get in touch if he had any issues. The representative engaged with the customer to deliver a personalized service. As you can imagine, this was well-received by the customer.

3. Marriott
World-renowned hospitality brand Marriott uses CrafterCMS to power an intranet, digital signage, augmented reality experiences, as well as a live video streaming platform—to engage employees, recognize outstanding performance, and improve overall customer experience.
Today, Marriott is able to reach internal stakeholders and employees, as well as customers, through different touchpoints, all thanks to a central, headless CMS in the form of Crafter.

Why You Need a Headless CMS to Deliver Omnichannel CX
Successful omnichannel delivery requires two key capabilities: the ability to deliver content to multiple apps, channels and devices, and to be able to track user activity across different channels.
A headless CMS is one fundamental component that you need for omnichannel delivery. Unlike traditional CMS systems, like WordPress, Drupal, Adobe or Sitecore, a headless CMS doesn't bake in a front-end presentational layer which dictates where the content should be delivered and how it should be presented. Instead, a headless CMS provides complete flexibility with presentation tier technology and facilitates content distribution through APIs.
Furthermore, CrafterCMS's decoupled CMS architecture separates the content authoring tier (Crafter Studio) from the headless content delivery system (Crafter Engine). This true separation of the authoring tier and delivery tier allows content creators to enjoy traditional content authoring tools, and also allows for that centralized content to be distributed to any application, device or channel.
Through Crafter Studio, marketers and brand managers can leverage user-friendly tools to create and manage content, while front-end developers can use the extensible APIs of Crafter Engine to deliver that content to any type of front-end user experience —like digital signage, single page applications (SPAs), smart IoT apps, mobile apps, AR/VR experiences, to name just a few examples..
Moreover, CrafterCMS incorporates Crafter Profile, a multi-tenant and platform independent module that developers can use to track and gather user profile information for personalizing and targeting content, completing the omnichannel experience.
CrafterCMS is Your First Choice for Omnichannel CX
Omnichannel CX plays a vital role in helping you differentiate your brand from the competition. It allows you to deliver a seamless and continuous experience across multiple apps, channels and devices that your customers demand and expect.
Many big name brands have already seen the advantages of omnichannel delivery, and by investing in CrafterCMS, you can gain a competitive advantage like them.
For more information on how to build and optimize omnichannel digital experiences, please download our free whitepaper. And for further information on CrafterCMS, please get in contact with us today.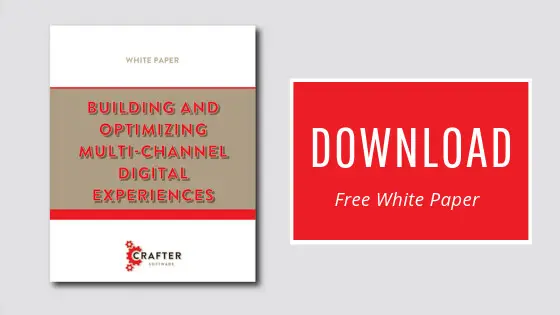 Related Posts
Related Resources