Article
DatoCMS Alternatives: Why Enterprises Choose CrafterCMS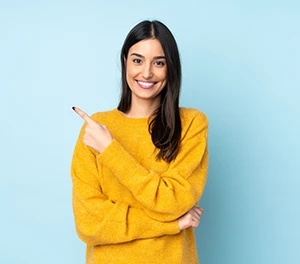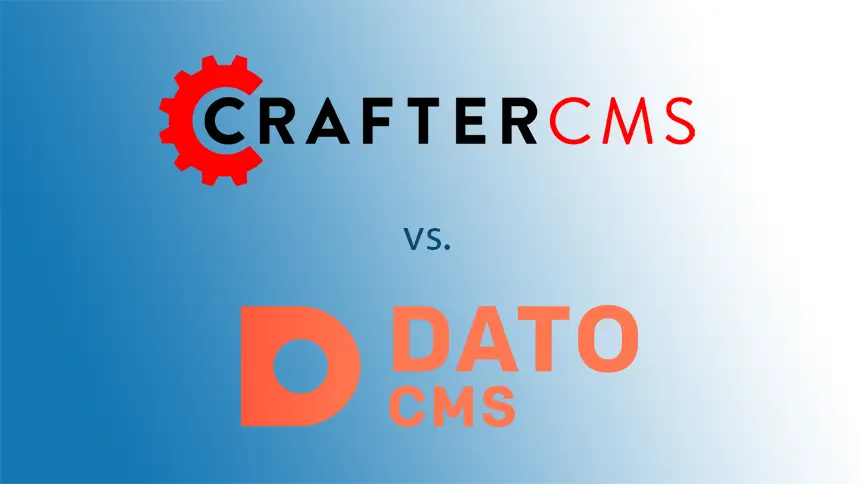 In 2022, headless CMS is highly trending, all credits to the tremendous benefits it reaps over traditional CMS. In this digital era, audiences consume information from multiple channels, and they expect pleasing digital experiences, regardless of the location or device they use.
A headless CMS is a backend-only platform that leverages server-side technologies to allow easy access to content via an API. "Headless" refers to the notion of discarding the head (front-end) from the body (back-end). This is the reason why headless CMS allows you to deploy content to multiple digital channels.
Now, DatoCMS is one such headless solution many developers choose today due to its intuitiveness and easy configurations. However, is it feature-rich and flexible enough to create immersive digital experiences? Is it easy to scale? Does it have marketer-friendly functionality? Let's find out!
In this post, we will dive deeper into the core features and limitations of DatoCMS and highlight a potential alternative in CrafterCMS.
What Is DatoCMS?
Established by LeanPanda -- an Italy-based web company -- DatoCMS is a content-as-a-service (CaaS) platform. It acts as a centralized console with a web interface that you can leverage to modify site content. The administrative backend is customized for the unique editing needs of individual sites. It supports multiple languages and leverages AI-powered tagging with good search capabilities to find media files and arrange digital assets in folders. Overall, DatoCMS is a good CMS platform that allows you to publish structured content on all channels.

Drawbacks of DatoCMS
Not Marketer-Friendly
According to user reviews on G2, DatoCMS is not very marketer-friendly as it is not a plug-and-play solution. Due to this, you have to rely on frontend developers for most things. The learning curve for DatoCMS is very steep. Anyone who does not have prior developer experience may find running and upgrading the solution very challenging.
GraphQL Challenges
Another major drawback of DatoCMS is that it lacks a proper JS SDK for the GraphQL API and out-of-the-box pagination support, React hooks, etc. Lack of automation makes content modification quite time-consuming and unreliable. You have to manually create GraphQL queries, make requests and handle refetches and paginations.
Custom Asset URLs Are Costly
If you require HTTPS, custom assets URLs are very expensive. DatoCMS does not support out-of-the-box sitemap and URL management. If you need to create or manage any URLs, you need to code your own solution or integrate third-party tools.
Narrow Range of Features
The features and functionalities in DatoCMS are limited, and it is not the easiest to scale compared to other CMS platforms. It lacks intuitive field primitives such as multi-select dropdown, a better markdown editor, out-of-the-box JSON tree editor, and so on.
In addition, DatoCMS offers search capabilities based on GraphQL filtering, and the full-text search is extremely limited. It does not have aggregations or support for result scoring.
Why Enterprises Choose CrafterCMS
CrafterCMS is an enterprise-ready CMS solution that meets the unique requirements of businesses to create faster and smarter digital experiences. With CrafterCMS, you can keep up with the modern demands of the audiences and future-proof your content with a highly flexible, scalable, and secure solution.
CrafterCMS is a headless+, Git-based CMS that enterprises can leverage to create and deploy feature-rich, content-driven applications across multiple digital channels. It offers myriads of intuitive features and a wide range of capability, which makes it a better choice than DatoCMS.
Here are some of the primary reasons why Crafter is a better choice for businesses than Dato:
Top-Class Content Authoring Tools
Content authors and developers seek intuitive and robust content creation and content experience tools that are equally easy-to-use as in traditional CMS. CrafterCMS offers a powerful suite of content authoring tools – Crafter Studio – which include drag-and-drop experience building, in-context WYSIWYG content editing, multi-channel previews for every digital touchpoint, and so much more.
It is built on an API-first, extensible authoring platform that can meet the unique growing requirements of content teams via easy customization options using modern development tools like ReactJS.
Developer-Friendly CMS
CrafterCMS goes one step further than other headless CMS's as it offers a headless+ platform. Headless "plus" refers to a truly developer-friendly platform that goes beyond simple content APIs and allows easy backend development, seamless extensibility, and faster integrations.
A wide range of extensible APIs allows developers to easily integrate third-party software and customize backend functionalities as needed.
Developers can even extend the backend and script their own APIs with support for Groovy, Node.js, Next.js, Nuxt.js, and Java. CrafterCMS's ability too create custom APIs allows developers to meet the unique application-specific needs and to make integration with third-party tools and other repositories easier.
Its API-first, lightweight, and open-source architecture houses modular packaging and out-of-the-box scripting support to help you build faster and immersive digital experiences.
Git-based, Distributed Repository
Git is one of the most popular version control systems for application source code, and most developers are accustomed to it. CrafterCMS's architecture uses Git to store content and configuration (and code) in a single source of truth, distributed repository.
CrafterCMS's Git-based feature-rich platform helps you seamlessly develop and model all kinds of content-driven digital experiences. It further supports CI/CD/CP workflows, auditing, robust security, better version control, and historical access to content.
DevContentOps
DevOps bridges the gap between developer and operations teams to accelerate the seamless delivery of software applications.
CrafterCMS takes DevOps to another level by offering support for DevContentOps. With this, software development teams can create immersive and smarter software products and digital experiences. DevContentOps culture creates a highly collaborative environment where content teams work closely with software development teams to continuously release the latest application features, publish software upgrades, and accelerate digital experiences for patrons.
Teams can collaborate and work in small batches and automate their business-critical workflows by integrating with CI/CD tools and pipelines.
Serverless Content Delivery Architecture
IT teams often find it daunting to manually manage servers at scale. Serverless architecture resolves the issue of manual management of servers, redundancy, uptime, scalability, orchestration, and other tasks related to modern applications.
CrafterCMS features Crafter Engine, which offers native support for Kubernetes and Docker to leverage containers and container orchestrations for elastic scalability. Unlike Dato and most all other CMSs, it does not rely on a database. Due to this, it can seamlessly deploy large volumes of content at scale through its serverless architecture. Developers can easily scale applications up or down as per the varying requirements.
AWS-Friendly Cloud-Native Platform
CrafterCMS offers a highly flexible, open-source, and lightweight development environment curated for ease of development. It allows you to deploy omnichannel experiences across the globe by leveraging powerful DevOps capabilities to create engaging and fast content-driven applications. And for enterprises looking for a fully-managed SaaS/PaaS solution, it leverages AWS and all of its rich features in the cloud to create a modern, cloud-native CMS. Additionally, it allows you to create and deploy stateless and serverless content with its robust scalability features.
CrafterCMS: Step Up Your Game With a Highly Flexible Platform
Creating immersive, faster, and engaging omnichannel digital experiences for end-users is a core objective of most enterprises. Choosing a highly flexible, API-centric, and headless+ platform like CrafterCMS helps businesses create best-in-class, engaging digital experiences through rich APIs.

CrafterCMS is a powerful, feature-packed platform based on Git, which makes it marketer-friendly and reliable. It supports DevContentOps, sophisticated content authoring, AWS integrations, plugins for OTT video, interactive assistants, AR/VR, and so much more to aid businesses in creating engaging digital UX.
Discover more about how CrafterCMS and how enterprises are using it to its full potential. Penn Mutual needed a new modern CMS platform to help them innovate instead of their outdated legacy CMS. See how CrafterCMS enabled them to do just that in the Case Study - Penn Mutual: CrafterCMS Enables Modern Digital Experiences for Life Insurance Leader.

Related Posts
Related Resources