Modernizing Customer Experience for Financial Services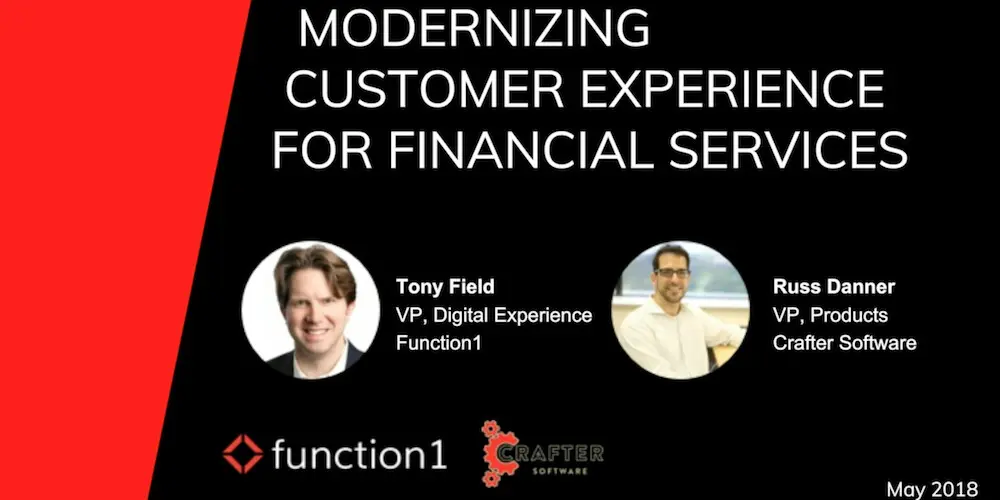 Financial Services organizations offer clients and prospects extensive online services, but the most successful brands enrich customer experiences far beyond core transactional systems. Customers expect the right information, at the right time, on the channel of their choice. Until recently, this has meant cobbling together disparate systems with clunky interfaces while managing technical complexity. Financial Services companies can easily overcome these frustrating hurdles with modern customer experience solutions.

Marketers can now enjoy a unified hub for customer experience curation, content creation, visitor profile management and content targeting in an environment that enforces brand awareness while addressing the unique compliance challenges facing financial services today; free from cumbersome IT processes.
In this webinar you will learn:
What a central content and experience hub looks like (web, mobile, headless, chat and email)
How to personally and respectfully tailor customer experiences and track the success of your campaigns
Strategies for distributing authoring to key individuals in your organization
How to launch new branding without IT interference
How workflow and integrated revisioning can solve compliance headaches
How integration with back-end systems can enrich digital experiences
Related Resources